Porsche Maintenance Schedule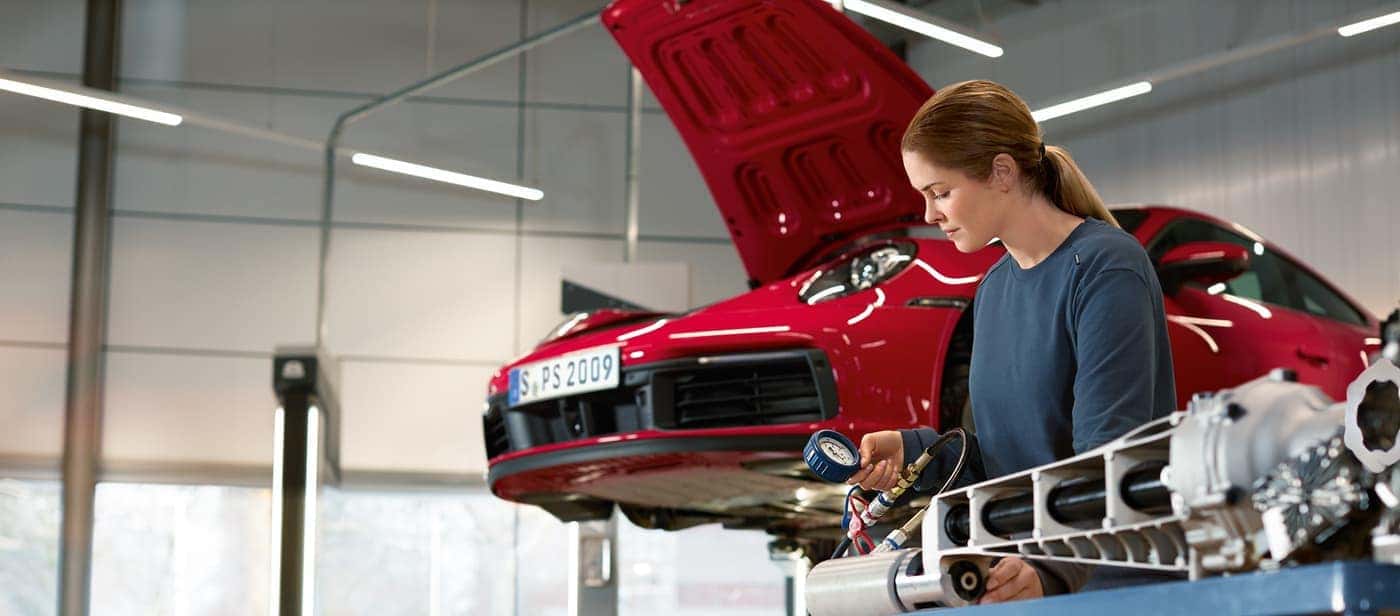 Your Porsche has been carefully engineered through precision machining and handcrafted details. It's a high-performance machine meant to push the limits of capability, luxury, and technology. In order to keep your Porsche 911, Porsche Macan, or Porsche Cayenne running like the intricate machine that it is, it's essential that you take care of your Porsche maintenance schedule at a certified service center like our own.
Our team will help you better understand more about your Porsche maintenance schedule so you won't have to keep searching fruitlessly for "Porsche service near me." Trust our experts at Fred Lavery Porsche Company!
---
Major Porsche Maintenance Schedules
While your Porsche maintenance schedule will vary by model, drivetrain, and trim level, there are many similar routine maintenance intervals that will help you take care of your Porsche. For example, you should take care of your Porsche oil change every 10,000 miles, or 1 per year.
Also, be sure to complete the following maintenance performed at 40/80/120/160k, or at 2, 6, and 10-year intervals (whichever comes first):
Electric System: Check and reset diagnosis system, check windshield wiper/washer and headlight washer functions and adjust nozzles, test horn operation, and check the condition of the battery and ventilation hoses.
Spark Plugs: Replace spark plugs every 40,000 miles or every 3 years.
Interior: Check seat belt condition and operation and replace filter element for the pollen filter.
Exterior: Check wiper blades, clean reversing camera lens, check vehicle lighting, adjust headlights, check trailer hitch operation, and inspect radiators, air intakes, firewall, liftgate, and sunroof body drains for debris or blockages.
Under Vehicle: Drain engine oil and change oil filter at every 10k mile mark, check tire pressure, inspect underbody for leaks and check covers to make sure they are secure, inspect brake pads and discs for wear, Check brake fluid and hoses, inspect axle joints, tie rods ends, and steering gear to check play and dust boots for damage or leaks, check exhaust system for leaks and inspect mounts.
Engine: Top off engine oil and check for leaks, inspect fuel system lines and connections, check coolant and antifreeze levels and hoses, and check PDDC fluid
Additional Mileage Maintenance
If you plan on packing on the miles and daily-driving your Porsche through Farmington Hills and Franklin, be sure to take care of the following:
2 years: Change the brake fluid using genuine Porsche brake fluid andchange fluid & perform test and adaption for your clutch
4 years: Replace tire sealant
60k/6 years: Replace PDCC reservoir and change the oil in the PDK transmission
80k/4 years:Replace air filter
120k/12 years:Change all-wheel front differential drive oil and change the rear differential oil
160k/16 years: Change ATF and ATF filter
Take Care of Porsche Maintenance at Fred Lavery Porsche Company
Whether you're looking for more info on your Porsche maintenance schedule or if you're looking for Porsche accessories, our team at Fred Lavery Porsche Company is here to help. Don't hesitate to contact us if you have any questions about your Porsche maintenance schedule.
More from Fred Lavery Porsche Company
If you're looking for an electric vehicle that's built for the track, you'll want the 2023 Porsche Taycan. How fast is the Porsche Taycan? It's got an impressive base Porsche Taycan 0-60 time of 5.1 seconds, but you can get it as low as 2.6 seconds with the right trim. And the Porsche Taycan…

The Porsche lineup is made up of vehicles made not just for the road, but for the track as well. What do you know about the Porsche Panamera 0-60 times in Farmington Hills? You'll learn that this legendary vehicle is able to get you to 60 pretty darn quick, perfect if you want to beat any…

The 2022 Porsche Panamera is a vehicle that offers an incredible driving experience to anyone bold enough to command it. How much horsepower does a Porsche Panamera have? The base Porsche Panamera horsepower is 325 hp, but the Porsche Panamera engine specs go much deeper than that. We're going to go into detail on the…