You know you can enjoy a world-class performance on Farmington Hills area roads behind the wheel of your Porsche 911 or Macan, but have you ever wondered who owns Porsche? The answer might surprise you. Porsche is actually owned by another German automaker, Volkswagen. Learn more about Porsche A.G., then stop by Fred Lavery Porsche Company to experience all that these outstanding luxury performance vehicles have to offer you today!
What Company Owns Porsche?
It's unquestionably Volkswagen who owns Porsche, but that's still not the full story! While Porsche is currently a subsidiary of Volkswagen AG, Porsche Automobil Holding SE retains majority ownership of Volkswagen. There are quite a few connections between Porsche and VW:
Who owned Porsche when the automaker was established? The Porsche company was founded by Ferdinand Porsche in Stuttgart, Germany, in 1931. The company was created to provide motor vehicle development services and consulting and did not produce any cars at first. Porsche actually designed the original Volkswagen Beetle, which became one of the most successful automobile designs the world has ever seen.
In 1969, Porsche and Volkswagen collaborated on the production of the VW-Porsche 914 and 914-6. The 914 had a Volkswagen engine, while the 914-6 had a Porsche engine. They collaborated once again in 1976, producing both the Porsche 912E and the Porsche 924, the latter manufactured at the Audi Neckarsulm factory, using many Audi components. The Porsche 944 was also produced at the same factory.
What company owns Porsche parts production facilities? Today's Porsche Cayenne parts are assembled at the Volkswagen Group factory in Bratislava, Slovakia, where the VW Touareg and Audi Q7 are also produced.
Where is the Porsche Headquarters?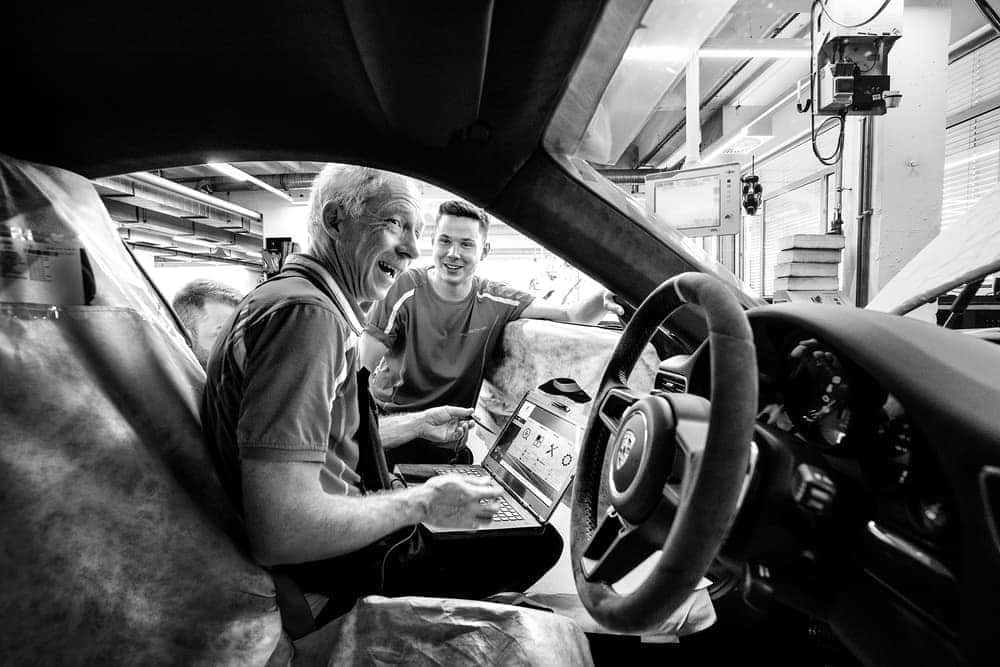 Dr.-Ing. h.c. F. Porsche AG, usually referred to as simply Porsche AG, has its headquarters in Zuffenhausen, a district of Stuttgart, Germany. The main factory is also located in Zuffenhausen and all Porsche models are manufactured there, except for the Cayenne and Panamera which are assembled in Leipzig, Germany.
Shop for a New Porsche Today at Fred Lavery Porsche Company
So, it's not all that surprising at all that Volkswagen owns Porsche, given how closely associated the two companies have been over the years. To experience the superior engineering and meticulous craftsmanship that Porsche is famous for, stop by our Porsche dealership near Rochester Hills. Explore our new Porsche inventory, and make sure to check out our new vehicle specials, then contact us to schedule a test drive today!
More from Fred Lavery Porsche Company
The 2024 Porsche Cayenne redesign is more than your typical mid-season refresh. Rather, it's a comprehensive renewal of this luxury midsize SUV's interior, exterior, and powertrain—offering more-powerful V6 and V8 engines, a bigger battery for the PHEV version, an all-new digital instrument panel, and an eye-catching new look. The Porsche Cayenne 2024 release date…

The 911 is among the fastest cars in the Porsche lineup, thanks to an extraordinarily powerful twin-turbo configuration that delivers balanced power across the speed range. Farmington Hills drivers who can appreciate advanced performance will find a lot to love—from its low center of gravity to finely-honed controls that forge an intimate connection between steering…

If you're looking for an electric vehicle that's built for the track, you'll want the 2023 Porsche Taycan. How fast is the Porsche Taycan? It's got an impressive base Porsche Taycan 0-60 time of 5.1 seconds, but you can get it as low as 2.6 seconds with the right trim. And the Porsche Taycan…