2020 Porsche 911 Interior Features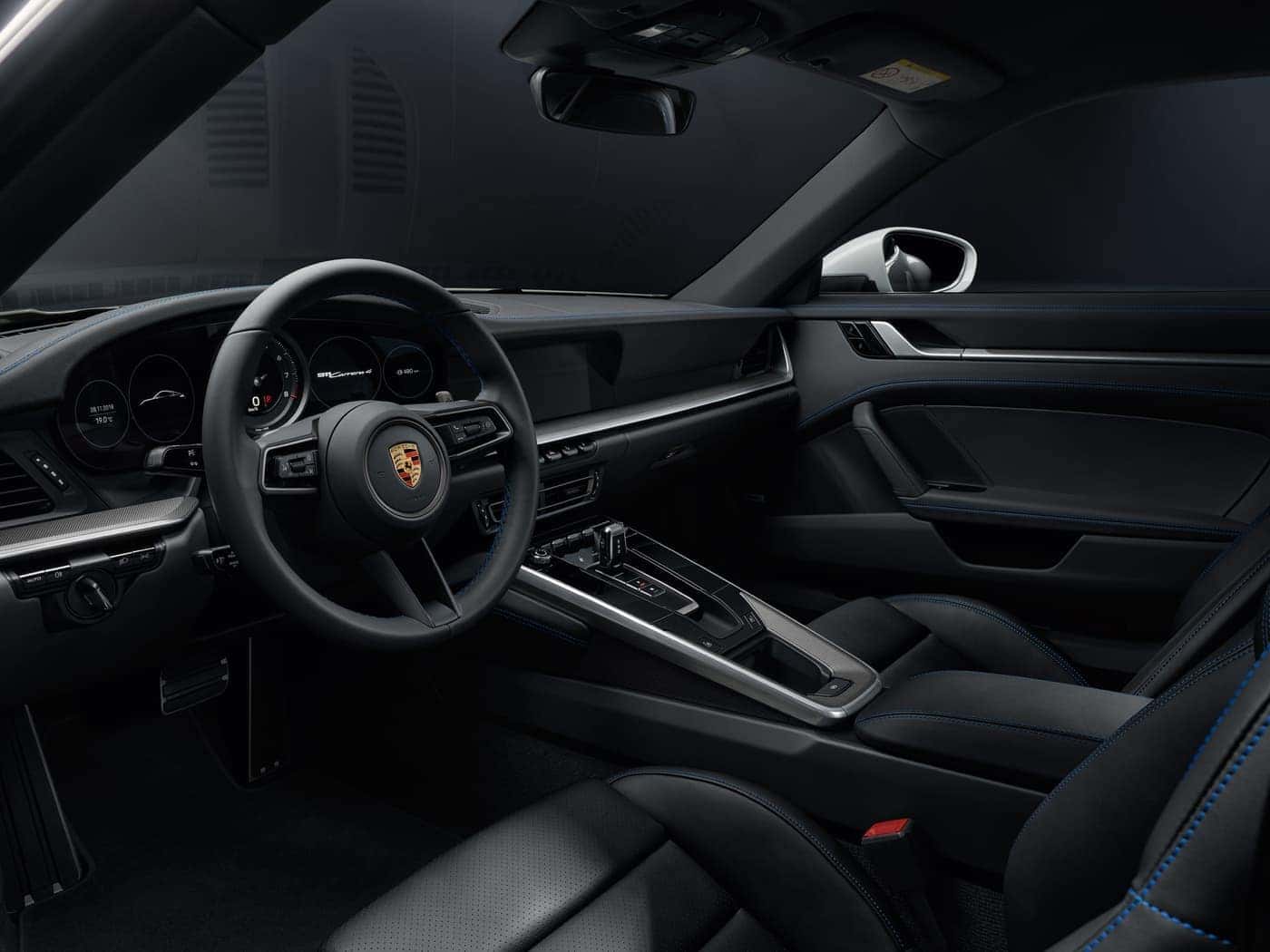 There's a reason the Porsche 911 is a household icon from Farmington Hills to Troy. While you may already know that 2020 Porsche 911 offers world-class performance, did you know that the Porsche 911 interior offers comfort and technology that can compete with even the finest luxury sedans? The team at Fred Lavery Porsche Company will help you learn more about Porsche interior features.
Porsche 911 Standard Interior Features
From leather upholstery, to adaptive Sport seats, Porsche 911 interior features keep you completely immersed into the experience. And while the Porsche 911 interior back seat may not be the first choice, it's certainly still useful. Two high-resolution screens in the instrument cluster work alongside another, larger touchscreen to ensure that you stay seamlessly connected while staying focused. Standard features you can expect from the latest Porsche 911 interior include:
Dual-zone automatic climate control
Porsche Communication Management (PCM) infotainment system
Two high-resolution 7-inch displays
10.9-inch touch screen in the middle of the dash
Elevated center console that's decoupled from the dashboard
Two USB ports
Apple CarPlay™
Wi-Fi hotspot
8-speaker audio system
Satellite radio
Radio Plus
Porsche 911 Available Interior Features
When you settle into a world-class sports car like the Porsche 911, you surround yourself with the finest technology available to Bloomfield Hills drivers. From performance readouts to a cabin air ionizer, the Porsche 911 is equipped with all the features you could imagine, and some you may not have. Available features include:
Sunroof (available in steel or glass)
12-speaker Bose audio system,
13-speaker Burmester audio system
Porsche Track Precision app
Sport Seats Plus
Air ionizer
Premium Seating
The interior of your Porsche 911 can be configured in hundreds of ways depending on your preferences. From bold premium leather, to subdued tones and bright accent stitching, 911 interior options include:
Colors
Black
Slate Grey
Graphite Blue
Bordeaux Red
Truffle Brown
Agave Green
Black/Mojave Beige
Black/Iceland Green
Black/Bordeaux Red
Slate Grey/Chalk
Colors & Accent Stitching
Black/Chalk Stitching
Slate Grey/Chalk Stitching
Graphite Blue/Chalk Stitching
Bordeaux Red/Chalk Stitching
Truffle Brown/Chalk Stitching
Agave Green/Chalk Stitching
Colors & Checkered Centers
Black/Checkered Centers
Black/Chalk Stitching/Checkered Centers
Test Drive the Porsche 911 at Fred Lavery Porsche Company
From your Porsche interior, to 911 models, to automotive maintenance, the team at Fred Lavery Porsche Company is here to demystify Porsche ownership so you can focus on your drives through Farmington Hills. Find your favorite model available in our inventory, and contact Fred Lavery Porsche Company to begin your Porsche ownership journey today.
Want to learn more? Be sure to read up on Porsche PDK transmission.
Learn More With Fred Lavery Porsche Company
If you're looking for an electric vehicle that's built for the track, you'll want the 2023 Porsche Taycan. How fast is the Porsche Taycan? It's got an impressive base Porsche Taycan 0-60 time of 5.1 seconds, but you can get it as low as 2.6 seconds with the right trim. And the Porsche Taycan…

The Porsche lineup is made up of vehicles made not just for the road, but for the track as well. What do you know about the Porsche Panamera 0-60 times in Farmington Hills? You'll learn that this legendary vehicle is able to get you to 60 pretty darn quick, perfect if you want to beat any…

The 2022 Porsche Panamera is a vehicle that offers an incredible driving experience to anyone bold enough to command it. How much horsepower does a Porsche Panamera have? The base Porsche Panamera horsepower is 325 hp, but the Porsche Panamera engine specs go much deeper than that. We're going to go into detail on the…